You already know that dental surgery is something you should take seriously. If you or a loved one needed oral surgery, then you want the best care possible.
We are honored to announce that for the second consecutive year, our practice has been named KCBD's Best of the West Oral Surgery Center in Lubbock, TX. We are grateful and humbled by all of our patients who voted for us. That tells us that we are doing something right for the people we want to help the most — all of you!
Before you make a decision about your oral surgery, you owe it to yourself to visit our award-winning practice. Call 806-507-6906 to set up a consultation at High Plains Periodontics and Implant Dentistry!
Come Here for a Wide Range of Services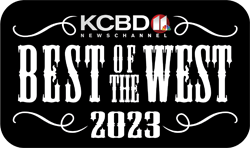 We offer an extensive range of surgical solutions to revive your oral health. You can come to us for all of these procedures:
Bone Grafts – We have been certified in a minimally invasive procedure to regenerate bone in your jaw. Visit us to prepare your mouth for implants with S.M.A.R.T. bone grafting.
Gum Grafts – Using replacement tissue, we can repair your gumline after the effects of periodontal disease, brushing too hard, or other problems that damage your gum tissue.
Implant Placements – Get your implants placed at a practice that has invested in training and technology to make sure your implants provide the most benefit.
Ridge Augmentation – You can recreate the natural contours of your jaw even after significant bone loss with this surgical option.
Sinus Lifts – If you have insufficient bone in your upper jaw to secure implants, a sinus lift can provide the added support that you need.
Tooth Extractions – When teeth can't be saved with restorative care, it's best to remove them and replace them to avoid long-term problems.
Wisdom Teeth Removal – For people who have problematic wisdom teeth, taking them out can spare you from a lifetime of problems.
We are equally committed to making your recovery go as well as possible. To ensure that you heal as well as you can, we utilize Platelet Rich Fibrin (PRF). This substance is created using a small sample of your own blood. It speeds up recovery and reduces discomfort after your dental surgery.
Ensure Your Comfort
Every member of our team is committed to giving you the best possible service. When you are planning a dental surgery, we understand that anxiety may be a concern. You can get peace of mind and remain pain-free with our three levels of sedation:
Laughing gas – Nitrous oxide is fast-acting and has been used by dental professionals for more than a century.
Oral sedation – Taking a dose of medication can ensure you are in a relaxed state throughout your procedure.
IV sedation – Few practices have completed the necessary training and licensing to offer this level of sedation.
Count on High-Quality Care
Dr. Everett wants everyone who comes to our office to get the kind of service they need and deserve. He has specialist training as a board-certified periodontist. He also keeps up with advanced in oral surgery by remaining an active member of several professional organizations including the American Academy of Periodontology, Southwest Society of Periodontists, the Texas Society of Periodontists, The American Board of Periodontology, the International Congress of Oral Implantologists, and the International Team for Implantology
Don't take chances on your smile! Come to KCBD's Best of the West Oral Surgery Center. Call 806-507-6906 to make an appointment. You can also schedule online to visit High Plains Periodontics and Implant Dentistry.
Visit High Plains Periodontics and Implant Dentistry